Blog
23 May, 2016
Go Fish! |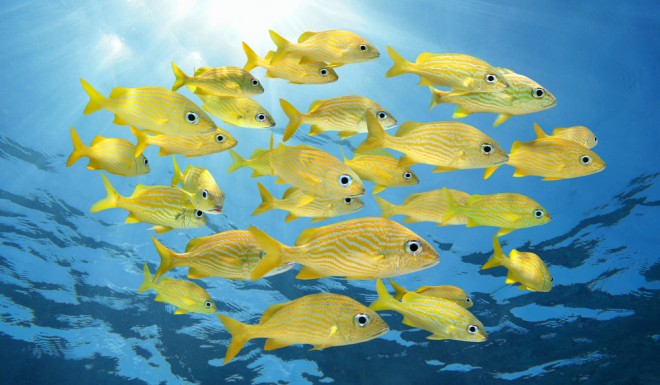 The Islands of Turks and Caicos are surrounded by the third largest barrier reef in the world making it the perfect destination for fishing fans. At the Seven Stars resort, we offer full or half-day deep sea fishing trips for all experience levels. Perfectly located at the center of Grace Bay Beach on the island of Providenciales, resort guests have the opportunity to ride alongside experienced fishermen for the chance to catch a variety of fish including Marlin, Tuna, and Wahoo. But, before you get ready to hook your bait here is a list of helpful things to bring on your deep sea adventure.
1. Sunscreen – deep sea fishing trips last from half to full-days which means long term exposure to the harmful effects of the sun. Be sure to bring a good, quality sunscreen to keep your skin from burning while out on the boat. Water resistant formulas that are SPF 30 or higher are recommended because the water reflects the sun causing the rays to be brighter on the ocean.
2. Protective clothing – Wearing clothing that will protect skin from the sun can stop possible sunburns, as well. Always check the weather forecast for rain or wind so you can be prepared for any weather. Remember, flip flops and sandals are not proper boating attire. Wear shoes with grip to prevent slipping on the boat's wet surface.
3. Camera – the last thing you want to do is catch the biggest fish of the day only to realize you forgot your camera back at the resort! So, be sure to bring a camera to capture all the great memories of your fishing excursion. Disposable, waterproof cameras are a great option.
4. Sea Sickness medication – if you've never been on a boat or are prone to getting sea sick, bringing some kind of sea sick medication is a good idea if you don't want to spend your entire trip feeling nauseous.
5. Water and snacks – after a few hours in the sun out on the boat, proper hydration is crucial. To avoid any of your party getting sick from heat spells, pack plenty of water. Also, bring foods that are easily eaten with your hands for lunch time so you don't have to worry about utensils. If fishy hands aren't your thing, be sure to bring moist toilettes or baby wipes to clean up before lunch time.
And, don't worry about obtaining your fishing license because the staff will take care of all the paperwork leaving you free to enjoy your deep see adventure on the island of Providenciales.
Specials & More
Back to top